I had the opportunity to go on an all ladie's hunt at Rum Creek WMA in Forsyth, GA October 1-3. A couple of us gals from the
GON (Georgia Outdoor News)
chat forum decided to meet up at one of the campsites and hunt it up! The thread started out with the announcement of the hunt, then the planning, then the final count of who would be attending, and finally to what food and camp items we all would be bringing.
We couldn't start hunting until Thursday, but we were all meeting at Rum Creek Wednesday evening. I lived the closest and didn't have that far to drive. The other ladies were coming from North and South Georgia. I couldn't wait to leave work and load the truck up! Although it was hot outside and I had a LOT to load up, including the trailer and four wheeler. I couldn't hardly focus at work. I had been texting Becca, the youngest of our group, all day about our trip. All I could think about was camping out and shooting a deer!
I finally left work early and drove as fast as I could to the house. It took me a couple of hours and some sweat but I finally got everything loaded up! I text Becca to see if she was almost to my exit. It was about 4:00pm. She text me back to tell me that in the midst of packing her stuff she bumped her scope and had to go to the gun range and re-site her gun. She didn't get to leave until 5:15pm and it was gonna take her about two hours to get to me. So I rode into town and filled the coolers with ice and made sure the truck and four wheeler had plenty of gas. I drove back home and played the country track pack of Guitar Hero until 7:00pm. I closed up the house and kissed my dog goodbye. I was headed for Rum Creek!
I met Becca in a theatre parking lot on the exit where I live. We talked for a few minutes and then hit the road. We called the other ladies to let them know we were on the way! We finally made it to the camp site. We said HEY to the other four ladies and hugged every one's neck. Debbie and Pat had been there since Tuesday afternoon so they had camp already set up. We had a total of six ladies from the GON forum in our group. I started unpacking and set up my tent. Tomi set up her tripod and camera and we took some group photos! My favorite is our "Shades and Blades of Glory" picture! After pics I helped myself to a plate of delicious food that was prepared by Wanda and Tomi. There was potato salad, some sort of bean salad mixture, and a Boston butt! I made banana pudding for dessert! Lets just say we didn't starve over the next couple of days.
After supper, Becca and I decided to drive around Rum Creek so she could put her climber up and I could find me a spot for mine. She knew right where she picked out her spot....or so she thought. It was almost 11:00pm but we were wide awake with excitement. So we did one big circle around the WMA and we hit the area where she was going last. I really wanted to hunt near the Duck Marsh project pond, but the gate was closed and I wasn't sure how to get around it. We drove around to a couple of different places, and everywhere we went we found bright eyes or flagged ribbon. I didn't want to hunt around a bunch of other ladies so we kept looking for another spot. We drove and drove and drove that night. We finally ended up at the area where she scouted and before she grabbed her climber, we took a bathroom break. It was 1:45a.m. and we were getting silly!! The temperature dropped and thankfully she had a couple of pull-overs in her backseat. We started walking down the road to look for where she would be hunting in the morning.


As we were walking and watching the ground for deer tracks (and snakes), I would look up every now and then for spider webs. Sure enough I saw one a couple of feet in front of us. "Look!" Becca jumped and snapped "WHAT?!" I laughed and said "It's a BIG spider web and I didn't want us to walk into it!" She said, "Oh! You scared me! I didn't know what you were looking at!" So we walked closer to discover a huge spider devouring his late midnight supper!!

We thought it was cool so we walked back to the truck, grabbed our cameras, came back and took some pictures! After it posed for us, we kept tracking through the trail in search of Becca's special spot she picked out. She said it's right by the water and there are TONS of deer tracks. I couldn't wait to see it! We kept walking and she said there was a big wash out in the middle of the road, but we never saw it. She said "
I always do this!
" I said "
What's that?
" And she said she forgets things and can't remember the exact details. We walked all the way to the end of that road until it came out to a power line. She said this wasn't the right road. We walked back to where the truck was parked. We had taken the road to the right. I told her lets take the other road and but she said she would rather come back the next afternoon when it was daylight. And since I didn't have a spot picked out, we decided to head back to camp, get some shut eye, sleep in, and head in to the woods when all the ladies was coming out. Before heading back to camp, we stopped at the check in station to count how many ladies were checked in. There was a total of 36 so far, but by the end of third day, I believe there was a total of 42 ladies that were checked in!! I was so pumped to see that list of ladies!! It was great!
On the way back to camp, we saw three deer crossing the gravel road into some people's yard. They were playing and apparently teasing me and Becca! I tried to take some pictures, but I couldn't zoom and focus in fast enough. We drove on to camp and tried to sneak in our tents. It was now 3:30a.m. I about froze that night. The temperatures dropped to the low 40's that evening and our fire had gone out. We only had an hour worth of sleep before the other ladies were going to get up. Once I heard them wake and my bladder telling me it's gotta go or else, I just couldn't go back to sleep. Me and Becca stayed at camp while we wished the other 4 ladies GOOD LUCK. I cooked us some breakfast over a camp fire while we relaxed and talked about where we would go scout for a place to hunt that afternoon.
It was almost lunch and we got dressed to head out to the woods. We figured most of the other gals were getting out for a hot meal and to take a break before heading back out for their afternoon hunt. Becca and I loaded up and started our hunt for a place to hunt. We drove to a couple of places and picked out a great spot for Becca! Next thing you know, we get a phone call that Debbie shot a doe.....and that she got her truck stuck!! So we jumped in the truck and headed to the other side of Rum Creek.
We found Debbie's truck sittin on three wheels with Wanda watching Tomi singing choir hymns in the bed of her truck and Pat trying to figure out the best way to tie rope from her truck to Debbie's. Debbie had drove down the road to go get her deer and she was trying to straddle her truck over a terrible washout in the middle of the road. Her front right tire had slipped right into the wash out, leaving the back end up in the air. Of course that meant the gas wasn't where it needed to be so she couldn't crank the truck up. Pat hooked up the rope. Wanda, Tomi, Becca, and me all piled up each other on the highest point of the truck bed to get it weighed down as much as we could. Debbie put the truck in neutral. And on the count of three, Pat puts her truck in drive while Debbie attempts to crank the truck and steer all at once. First attempt we failed. But the second was a successful pull from the washout! Of course this called was a Kodak moment and we helped Debbie get her doe loaded to the truck.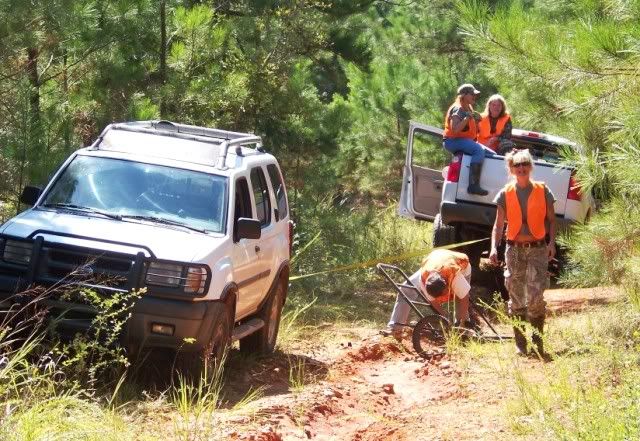 Me and Becca headed back to camp because we were ready to get in the woods. We got dressed and headed out. She drove out to the honey hole she found and I loaded up the 4 wheeler and rode down from camp where I found a side road that didn't look occupied by other huntresses. I parked the 4 wheeler and headed down the trail. I saw some fresh deer tracks and they were BIG. I was excited. I put my climber on a strong pine, but kept having problems getting it up the tree. It was so hot that I couldn't wear a t-shirt or my face mask so I had to cover myself up with war paint. I think I had more flies around me than Debbie's dead doe! I never saw nothing that night, but I kept hearing something behind me. I never did see what it was. I eased out of the woods at dark and went back to camp. No one else shot anything that evening. We started the fire for a great hot pot of chili and smores!
The next morning we all headed out at 5a.m. Becca and I found another great spot and we trailed out. I saw several deer tracks on my way in and was really excited about this area. Becca hiked the opposite direction from me. There were oaks on one side and pines on the other. I climbed up a pine in my climber and finally could see everything around me. The only thing I got that morning was bird poop on my deer grunt! Becca didn't see anything either, but when I met up with her, I helped her move her climber to another tree. She ended up seeing 5 turkeys that evening in the same spot!
We headed back to camp to eat some lunch. A couple of the other ladies showed up for a quick bite before heading back out to the woods. It was time for me to pack up camp and head back home. I was leaving a day early because my husband was flying back in town and had to pick him up. I said my GOODBYES and took a few last pics with the girls and wished them GOOD LUCK. I drove away with lots of memories from Rum Creek and new bond and outlook with female hunters. I always thought it was great, but now I think it's even GREATER that there were so many out there! It really opened my eyes to how I really want to help with getting more females involved in hunting and to continue with the ones who do!
I pulled in the driveway with a sigh. I couldn't believe it was over already!! The other girls were still out there hunting. I was worn out but ready for a HOT shower in a scented bar of soap!
It wasn't long that I got a text from Becca saying that Debbie shot another doe right before dark and they were all trailing it. The deer went into a thicket and all the ladies went in to help track it, except Tomi and Wanda. They knew someone needed to stay on the road in case someone forgot where they walked into the woods. They got separated as they went deeper into the woods. Two other ladies that were hunting near them that afternoon were with them also. Tomi and Wanda walked out of the woods by themselves with only her flashlight. They walked a long way on the logging road in the dark until they found the dirt road. Then they walked about a mile or two on the dirt road until they got to the road that led to their trucks. Tomi and Wanda stopped at a house and got a ride to Wanda's truck and then went back down to where they came out of the woods. It was midnight when Debbie called off the search for the deer. They called Becca and told her and Debbie to listen for Wanda's horn on her truck so that it would help them know which direction to come to. Well....Wanda had to stop honking the horn because a "not-so-happy" man came up in his truck to ask what all the horn blowing was all about. He was slightly peeved. There were some houses right below where they were and they woke them up and he was not happy at all! But Wanda told him there are 5 friends in the woods and they sort of lost their way when tracking a deer. The man informed Wanda that there were 5 people down at the house trying to sleep and that she had better stop honking the horn! Wanda was only honking ever so often. She said it was a good thing no one was injured because he wouldn't have offered to even help! But the ladies handled it themselves and they didn't need his help anyway! So Tomi and Wanda honked the horn a few more times and then Becca, Debbie, and whoever else was in there finally came out to them....at 2 in the morning!
There will be more from the
Sisterhood
of the Rum Creek Gang
!! And more ladies are joining in with us! This was a hunt and camping trip I'll never forget and can't wait for more!